Circa Theatre is delighted to launch the 3rd WTF! in four years with Jo Randerson's exciting new play Another Mammal on 22 August. A writing workshop convened by the renowned Renée takes place the following weekend, and Lucy Kirkwood's dazzling Mosquitoes opens on 5 September. The Festival includes play readings; a development season of the second part of Lynda Chanwai-Earle's Antarctic trilogy entitled HOLE (following HEAT); plus the all-female production of Di and Viv and Rose by Amelia Bullmore; and Laura Wade's witty satire Home, I'm Darling.
Inspired by Equal Representation for Actresses, Circa Theatre takes up the challenge of 50:50 by 2020 and examines its programming in 2018 in preparation for a Forum (date tba). The Circa Council has equal representation of men and women and has always championed equality. The graph (which replaces the Women in Theatre graph used for previous Festivals) shows that Circa has achieved equal numbers of male and female actors, supports female directors and writers, and needs to encourage more women into set and lighting design.
The forum will look at the statistics for 2019 and 2020 and challenge other theatres around the country to do the same. Ongoing attention to equality is the motivation for this Festival. We are also addressing gender diversity with the children's show The Glitter Garden creating a Festival which celebrates women's voices and opens the discussion to LGBTQI+ and the Rainbow community.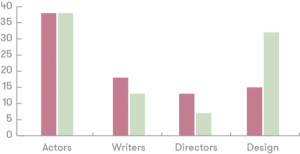 Twitter: @ERA50_50
Instagram: @era50_50
Facebook: @ERA5050
Podcast: https://audioboom.com/channels/4995229 or 'The New ERA' on all podcast streaming sites
WTF! is proudly supported by