Peter Hambleton:
On Friday night I attended the Opening of the New Zealand Premiere of the play, The Dinner.  It was directed by Juliet O'Brien who directed Tim Gordon and I in The Letter Writer a few years back. I caught up with Tim to find out how The Dinner came to Circa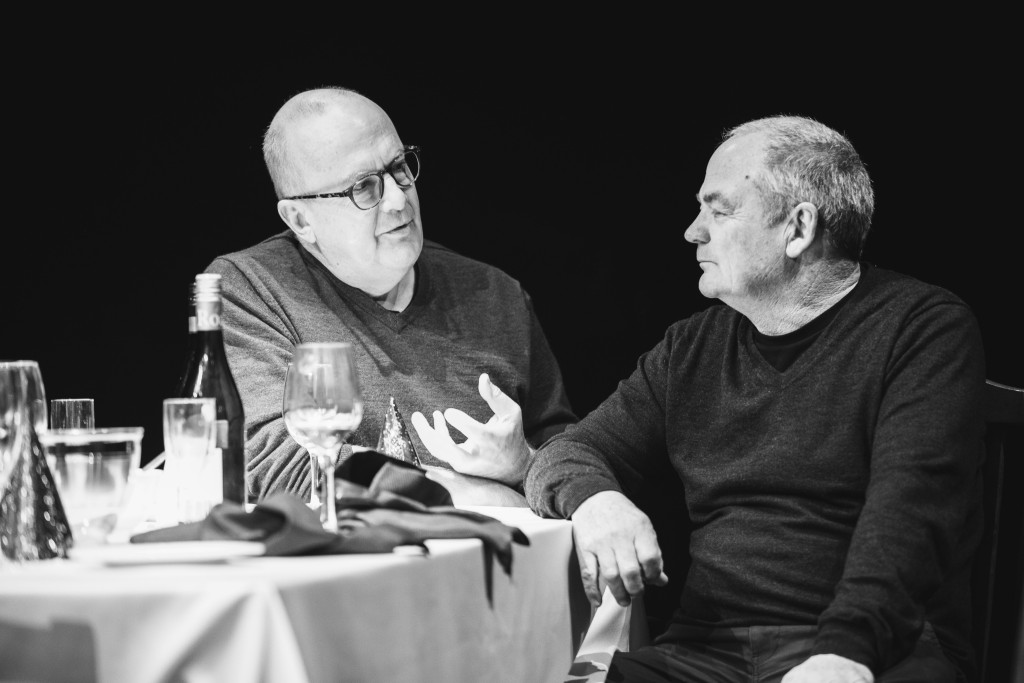 Tim Gordon:
Juliet O'Brien, an ex-pat living in Paris, has been performing in The Dinner in France and offered to direct it here. She's been with us for the last couple of weeks.
Peter Hambleton:
I see it was devised by Joan Bellviure  – what does "devised" mean?
Tim Gordon:
It's his structure –  every dinner takes place in  Wellington – there are always  two hosts, and three guests. Four of them know each other very very well and the the fifth guest is a complete stranger to all except the one who invited them.
Peter Hambleton:
I loved the way  the large groups determine your characters and relationships.
Tim Gordon:
Yeah we never put anyone on the spot.  The questions we used were developed by Joan Bellviure. As you saw each actor asks of their section of the audience the specific questions for the role they are playing that night.
Peter Hambleton:
Because of that, I felt I had skin in the game as the play unfolded.  Is it scary, a play without a script?
Tim Gordon:
Yes and no, the questions help  deveop the character and relationships and ultimately the plot.
Peter Hambleton:
Amazing seeing you all work together to create the story. How do you do that without any consultation?
Tim Gordon:
Listening. Fortunately we all go back a long way.  I first worked at Circa in 1990 with Mark Wright on Suspect at Harris St. That improvised play was devised by Lori Dungey and a group from Vancouver. Ian Harcourt, of course, old school kiwi comedy icon moved to Wellington the early 90s and Anna Kennedy, now an Auckland agency TV producer, first worked with us when she was still at school in the Hutt Valley.
Peter Hambleton:
Well, I had such a good time on Friday. Enjoy the rest of the run.
Tim Gordon:
Thanks, Peter. We're having fun. Sorry its such a short run in Circa ONE finishing on Saturday 25th August.
Catch The Dinner before it closes! Only on until Saturday 25th August!

Social Share